What makes a pizza, pizza? Is it the marinara sauce? The mozzarella cheese? The thick crust? In my mind, pizza is one of the most adaptable foods on the planet – you can play with just about every major component, which also makes it difficult to define.
This Winter en Suisse, I learned that you can have prosciutto and gruyère on pizza, with hardly any sauce at all. And in Zürich last weekend I went to a place where it's perfectly ok to call it a tarte flambée instead of a pizza and turn it into dessert.  But really, it's any flat baked pie with toppings.  The sauce, the crust, the toppings, all of them are totally variable options simply waiting for your creative palate to guide the way.
Sometimes we have tried simple variations at home – like using pesto instead of marinara sauce for my father-in-law who is allergic to tomatoes.  And other times we have gone a bit farther "out there" in our flavor selections, like when we decided to make this Carmelized Fennel, Beet and Orange Pizza.  And sometimes, like this one, a really different pizza just appears from nowhere in our kitchen.  Like Asian BBQ Pizza.
It all started back in grad school.  There was this pizza place by us that did "take & bake", which was perfect for being able to pick up a pizza on the way home, and then bake it in our oven a couple hours later when company was over for a casual get together without having to send someone out to pick it up.  I know the idea seems absurd to many, but we found many practical reasons to love it (this was before my husband was so conscious/diligent about maintaining his gluten-freeness).  My absolute favorite kind and the one I originally had in mind to emulate was their BBQ Chicken with BBQ sauce instead of marinara, marinated cooked chicken, cheddar cheese, and a multitude of beautiful veggies.
The first problem was that my husband picked up dinde (turkey) instead of poulet (chicken).  Ok, we can work with turkey, that's fine.  Then, BBQ sauce was a bit difficult to find and I didn't feel like trying to make my own, so we ended up picking up an Asian BBQ sauce in our favorite Japanese market.  That changed things a bit.  Now all of a sudden that cheddar cheese wasn't sounding too appealing.   So, being the master adapter that any gluten free cook evolves to become, I decided we can handle this.  I nixed the cheese making this totally dairy free, and instead of our original toppings went with bell peppers, orange and garlic, which were fine accompaniments to the marinated cooked meat.  I felt as if Mr. Tim Gunn was in my head saying, "Make it work!" as he does so famously on Project Runway.  Ok, actually I feel that way about most of my cooking – but then what challenge is there if there is not a little improvisation and creativity required? 😉
I tried something totally new for my pizza crust.  Though you may not know it by reading my blog (as I have written my posts mainly in volume amounts), I really have embraced the metric system in the kitchen and have switched to measuring by weight.  Using the metric system and thinking in ratios (particularly in understanding starch:flour ratios and how they affect certain recipes) has done wonders for the outcome of my baked goods, especially my gluten free ones.  If you are curious as to why I switched to measuring by weight, you can read all about it in my new food science column on the Rambling Epicure! Yes, I am happy to announce that I am a contributor to this brand newly launched international collaboration of food writers.  If you remember my series on gluten free substitutions last year, you'll know that I am intensely fascinated by how science works in the kitchen, especially when it comes to gluten free cooking and baking.  I won't just be writing about gluten free though, so if you are ever wondering how something works when you cook or why something happens, just ask!  I love to experiment in the kitchen and use my chemistry background to deduce the hows and whys of one of my favorite activities, preparing food
For this pizza I really wanted to play with my crust recipe.  My previous crusts all worked well as flat breads, but using gelatin as a binder really was not ideal.  It meant that the dough had no flexibility after it baked, and essentially was a hard (albeit tasty) thick cracker with toppings.  I abandoned that entire recipe altogether and decided to base this one off of a recipe I found using weights.  Weights worked well for converting Dario's gnocchi to gluten free, and I figured it was the best way to ensure that my gluten free mix would be in the correct proportion to the original recipe.  I increased the starch:flour ratio a bit from my old version, hoping to give the dough a bit more malleability than before.  I ended up with about 40% starch : 60% flour by weight, and after only one flop had a resounding success!
This post is also part of Gluten Free Pizza Fest, hosted by Jessica of ATX Gluten Free.  Be sure to check out her site for tons of great gluten free pizza recipes & ideas over the next couple weeks!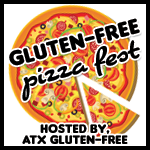 Also submitted to Slightly Indulgent Tuesdays
[print_this]
Gluten Free Pizza Crust
, adapted from
Shauna Ahern's Pizza Recipe
Prep Time:
15 min to activate yeast and mix dough
Total Time:
1 hr 45 min from start to finished pizza
Yield:
2 small pizzas
Ingredients
:
1 packet dry active yeast
pinch sugar
115g (about 1/2 cup) warm water, plus about 1/2 cup extra
80g corn flour
100g white rice flour
60g buckwheat flour
50g hazelnut flour
30g cornstarch
170g potato starch
1 tbs. xanthan gum
1 tsp. salt
1 egg, room temperature
50g (1/4 cup) olive oil
Directions:
1.  Dissolve yeast  and sugar into warm water, then cover with a paper towel and let sit until doubled in size.
2.  Meanwhile, add to a large mixing bowl the flours and starches, along with salt.  Then add yeast/water, egg, and oil to the dry ingredients and combine with your hands.
3. Add in a little extra water as necessary, enough to be able to bring the dough together and form it into a ball.  I find my dough is often rather moist and a little sticky at this stage, but not impossible to work with.  Coat with a thin layer of oil and then a damp warm towel, and let rise for about an hour. (this is a good time to prepare your toppings).
4. After one hour, preheat the oven to 450F, spread the dough out on an oiled sheet with your hands.  Use Shauna's tips on her recipe if you want a super thin crust.  I like mine about 1/4″ thick.  This made for me two pizza crusts, about 8″ x 8″.  Add your sauce and toppings.
5. Bake in the oven about 30 min., or until the crust is baked through and toppings are sizzling.  Enjoy.
[/print_this]